News and Events
23 July 2015
Cullen - The Employment Law Firm has completed a decade of sponsoring a prize for the top Employment Law students at Victoria University of Wellington.
Peter Cullen says the firm takes great pride in recognising talent in employment law at the university. Mr Cullen also studied law at Victoria, where he was President of the Student's Association in 1972.
This year's prize, awarded to the top three students in the employment law class, went to Dirk Lenz, Linda Brown, and Cameron Elliot.
23 June 2015
We were privileged to hear Cardinal John Dew speak at our last breakfast. He talked about his own upbringing and how he became a priest, his role as Cardinal and the contribution that Pope Francis makes to the Church and the world, and of governance in the Catholic Church.
L-R: Andrew Berry, Peter Cullen, Cardinal Dew, Calum Cartwright
12 May 2015
We were very fortunate that both Minister Paula Bennett and Minister Simon Bridges gave up some of their valuable time to come along and speak at the breakfast. Both Ministers are very popular and extremely busy individuals - they are not only MPs for their local electorates but also hold an impressive number of Ministerial portfolios within Parliament.
The Ministers talked freely about their backgrounds and how they became involved in politics. They are both passionate about making a difference in New Zealanders' lives through their present roles, and are inspiring, personable and engaging speakers.
L-R Minister Paula Bennett, British High Commissioner Mr Jonathan Sinclair, Minister Simon Bridges, Amanda Skoog, Royal NZ Ballet dancer, Peter Cullen, Royal NZ Ballet dancer
30 April 2015

We are delighted to announce that we have appointed Sheryl Waring and Sarah Cates as Senior Associates. They have been with the firm for 5-6 years and provide specialist employment law advice to employers, unions and employees from the public, private and charity sectors.
To find out more about our Senior Associates you can view Sheryl's profile or Sarah's profile.
21 April 2015
We were very privileged to have Dr Alan Bollard, former Governor of the Reserve Bank of New Zealand and now Executive Director of APEC, speak at our last breakfast.
Dr Bollard gave a fascinating insight into the Asian economies, how these economies are rapidly changing as the population of each country changes, and the significant global impact of these changes.
Dr Bollard also talked about the challenges and opportunities Asian economies hold for New Zealand.
The Cullen Team with Dr Alan Bollard (L-R Calum Cartwright, Dr Alan Bollard, Peter Cullen, Rufus Hancock)
17 March 2015
Cullen staff members returned once again to the annual Jumbo Tennis tournament organised by the Wellington Rotary Club to raise funds for Wellington Free Ambulance.
The staff's competitive nature came blasting through on the day with Alistair and Rochelle making it through to the semi-finals of the cup and Fred and Calum making it through to the semi-finals of the plate. The Cullen teams also garnered attention for their most vocal supporters. A fun afternoon was had by all.
Cullen staff at the Jumbo Tennis tournament (L-R Al, Rochelle, Calum, Rufus and Fred)
Fred and Calum in action at the Jumbo Tennis tournament
5 March 2015
We were very privileged to hear Professor Michael Kelly, world leader in science and technology, speak on methods of communication and manufacturing heading into 2030. School students also took up the opportunity to speak with Prof Kelly after the breakfast.
The Cullen Team with Professor Michael Kelly (L-R Peter Cullen, Rufus Hancock, Vicki Stent, Professor Michael Kelly, Sue Singh, Rochelle Fausett, Calum Cartwright)
Peter Cullen and Professor Michael Kelly with students from Samuel Marsden Collegiate School and Scots College
24 February 2015
We had an energetic team from Cullen participate in the 10km option for the recent Wellington Round the Bays event. All involved enjoyed the run with several runners looking forward to the challenge again next year.
Rufus, Calum and Sarah waiting for the Round the Bays Fun Run to start
The Cullen Running Team at the finish of the Round the Bays Fun Run (L-R: Rufus, Fred, Al, Calum and Sarah)
2 December 2014
We were delighted to have All Black and Wellington Hurricanes captain Conrad Smith speak at our last Breakfast Club for the year.
The Cullen Team with Conrad Smith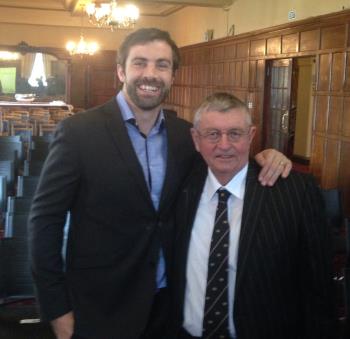 Conrad Smith with Peter Cullen
Students from Kapiti College and Conrad Smith
29 October 2014
We had a great turnout for our latest breakfast - our guest speakers were the candidates for the Labour leadership. We heard Andrew Little, The Honourable David Parker, and Grant Robertson give their thoughts on lessons learnt from the recent election, and Labour's future position in the political world. (Nanaia Mahuta was unfortunately unavailable due to a prior engagement).
L-R: Andrew Little, Peter Cullen, Hon Annette King, Hon David Parker